CRESSY VIDEO
WEDDING VIDEO
Your wedding vows take a few minutes. Your wedding video allows you to relive them for a lifetime. If ever a single moment of your life is worth preserving, this is the one. Photography can't do it alone. Professional wedding videography preserves all the memories of your big day. Sights. Sounds. Feelings. You'll remember the way you and your husband/wife looked and sounded on your wedding day...FOREVER!
Someday you may have children. If your wedding has been videotaped, you don't have to tell your children about it, you can show them. They can relive it with you.
The difference between professional and amateur videography is dramatic. It pays to hire a professional wedding videographer. Do you really want your Uncle Bob to record your wedding from the back row with his smart phone?
Please read the testimonials at the bottom of this page.
Included in your wedding video package will be a short 3-5 minute mini-version of your entire wedding day that will get posted to youtube.com for you to easily share with family and friends. See sample video below to get an idea of what I'm talking about.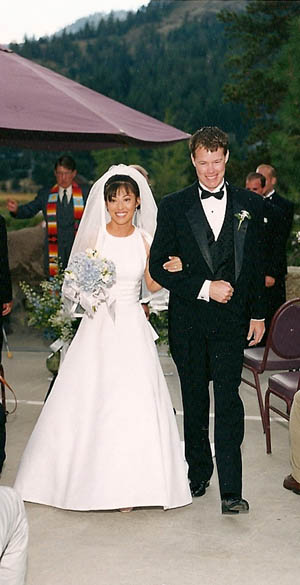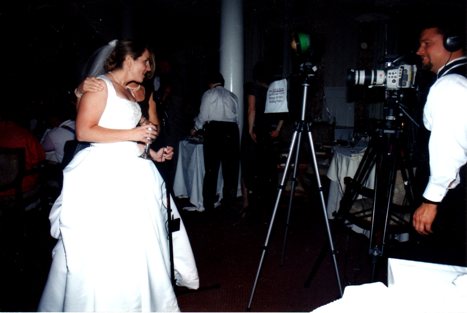 We always set up a camcorder at the reception, so your wedding guests can come up and leave a personal wedding video message for the newlyweds.
Wedding Video Testimonials
Robin, Everyone loved the tape. It was really great to watch the wedding and reception again. I will watch it over and over.
Thanks again
Becky Burks (mother of the bride)

Robin,
The video was great. Great, Great, Great!
Kim & Jim Demmon

Thanks Robin! We really appreciate you coming out for the wedding and making the video for us! You did a great job!
Thanks!
Brett and Alex Huffman

Dear Robin
Phew! It's over. We made it through the insanity...and thank goodness you were there to record the shenanigans...Thanks so much for being with us back east and having fun with us. The video is awesome. We mean...really awesome. We couldn't stop laughing out loud. Can't wait to see you on the mountain! Thanks again-
Love Kerry & Willy Scroggins

Robin,
Wow! What an incredible collection of wedding memories that we will treasure forever. Robin, you have definitely outdone yourself. A few of my favorite scenes:
· Our Friends' tributes - great idea!
· The cake cutting, feeding, and smashing
· The late night interview with us and especially the part where you spliced in the photo of the leaf (which, by the way, we retrieved during the honeymoon!)
· The sequence of the golf course - I can't believe I was so tan back then!
· And last, but not least, the tributes from the folks up at Hood, especially Glen Plake and Phil Mahre - that was AWESOME!!!! I actually have met both of them before - I have a photo of me and a buddy holding Phil up in the air during a race camp at Keystone, and Glen foreran a race for us in college! Dude, I was speechless - great job!
Robin, it was a pleasure working with you and I'm so psyched that you were willing to come down and do the wedding. We're including an extra $100 because you totally exceeded our expectations. Robin, thanks again for doing such an incredible job! If you ever need references, give us a call!! Take Care,
Bill Schlough
Hi Robin
We had an incredible time. I hope you enjoyed it too. Bill and I were pretty jazzed with the results. The video turned out great. Thanks for the special touches. Thanks for coming to Tahoe, we really appreciated it!
Love Erin Schlough

We just finished watching our video. Excellent job! I want to take some clips from it and put it on the website.
Grant Wilson of the band "Surfin' USA"

Robo -
The video is great! We're going to show it to John's parents tomorrow. Thank you so much for your contribution! We have good pictures, but the video is a wonderful memento. Thanks, Thanks, Thanks!
Love Jenn & John