EVAN WOOD
11th Annual Memorial Ski Race
THE FINALE


Mt Hood Ski Bowl
February 20, 2016
GS on "Reynolds Run" 10AM start
Evan Wood raced for the Aloha High School Ski team 1997-2000. He was a key member of the 2000 Aloha boys metro league championship team. Evan started his high school ski racing career racing in the back of the pack on the JV team as a freshman, but he worked his ASS off for 4 years and ended up finishing as a 2ND-TEAM-ALL-METRO racer in Slalom his senior year.
Please take a few minutes to watch Evan's memorial video, and read some comments from some of Evan's ski team teammates.

Oh my God I miss my boy I want to thank everyone who has helped with these Memorial races to keep this special, wonderful young man's memory alive. You'll NEVER know how much it means to our family. ~Sharon Wood
*Evan died on February 7, 2005 as a result of Anaphylactic shock. He was 22.
EVAN WOOD memorial Video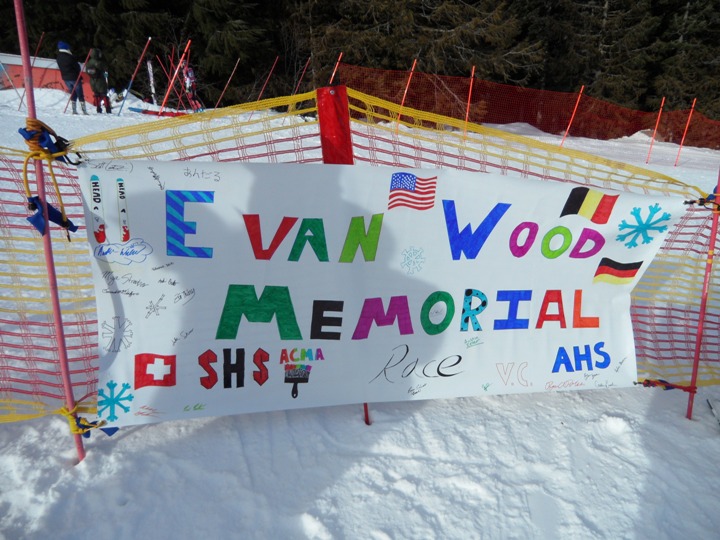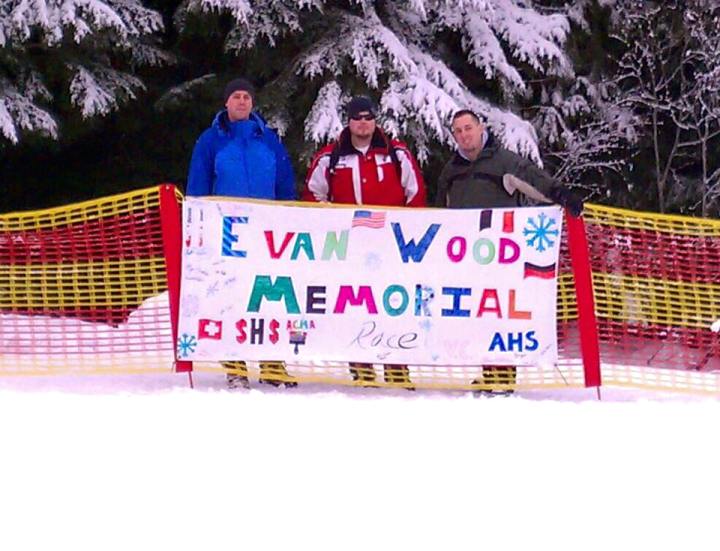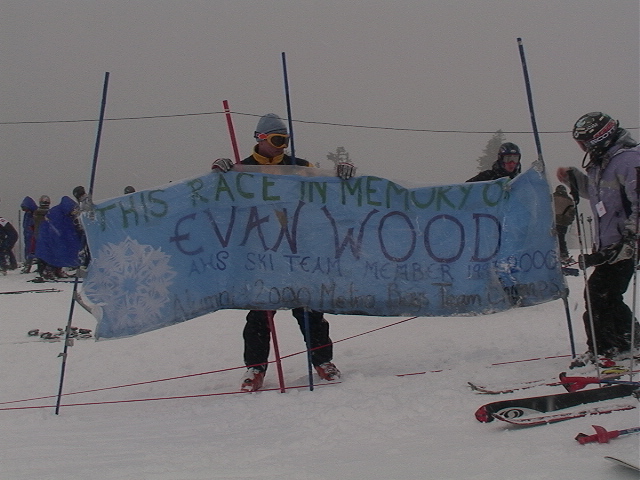 Memories of Evan Wood from Evan's ski team teammates
From JP McConnell:
To tell you the truth, I had spent much of Tuesday thinking about the team and thinking about racing and the memories of those four great years. It was not until I got home that evening that I talked to my dad and he told me what had happened. It has taken a while to sink in. Having seen him just a month and a half before at the alumni pizza night, I'm really glad I stopped by. I always considered our guys team my senior year to be invincible. It's really hard to find out that was not true. I know there is no way the team could have achieved it's success without him. He was as important as any other racer in the top 7 of our team. I've never met anyone who could bounce back from massive crashes the way he did. I can remember seeing him in neck braces and stretchers on a regular basis, but Memories of Evan? I remember at some point our senior year we watched the video from our freshman year. He and Andrew had the squeakiest voices. I can remember all the nights of practice, and speed runs down north fork at meadows. But most of all, I remember being on stage with him and the rest of the team during the 2000 Metro League awards and saying to him "we did it" and hearing him excited as hell say "hell yeah we did it!" He and Andrew S. worked harder than anyone I ever skied with. More than anyone, those two lead the team, and were the people who truly inspired the rest of the team, including me.

Thanks for the picture of Coble, Seibert, Woody and me. That is truly how he should be remembered, as the kid who was always out there and having fun.

~John McConnell

From Doug Boyer:
What I remember most about Evan are the intangibles; the way he deeply affected those around him. He was a major source of inspiration for me to improve my skiing. There was never a time when he didn't offer some advice about how I could improve. He inspired confidence through action and never got down on his teamates. Even though he may not have been the best skiier in the standings, he was in my view the embodiement of what ski team is all about and added as the kind of leader many say that are but few achieve. He was the glue that held the ski team together and his positive attitude helped for us all to maintain our comradery. For those of you who never had the chance to meet Evan, he was a team player and stuck it out with those he cared about, through thick and thin. I am forever changed by him.

-Doug Boyer
AHS alum
From Kevin Moore:
I remember Evan ALWAYS playing around and giving me a hard time freshman and sophomore year...but it made me a stronger person! His nickname for me "Kevy-Wevy" still sticks with me today! He was always there for help and a little laughter, and stuck up for me when I needed it the most, and knew when to stop messing with me. He was one that cared for people greatly, and had a very positive look on life, and was also a hard worker! I have many more great memories and feelings towards him, too many to share.

~Kevin Moore

R.I.P Evan
From team president Pat McConnell:
A really sunny day in early December '99, the first on-hill team training day of the new season. Standing at the bottom of Phlox, looking up course at the team milling around the start knoll. Talking to you about the racers who had been to MHSSC during the summer, then seeing a racer step into the start. I figured it was probably JP; first guy in, red shin guards, couldn't really tell at that distance. Racer rocked back, good kick start, hands up and in front, feet quick and close, slalom gates bending, hill echoing that addicting "th-whack, thump" noise. I turned to you and said "JP is looking pretty good" and you smiled and said "That's Evan!" And the dream began to come true.

Patrick McConnell
Clyde/West, Inc.
From Coach Darren Kirk:
Evan, the man who lived for the moment! I first met Evan when he walked into dry land my first year of coaching. He was full of ambition, loved to joke around but he also knew how to work hard to get what he wanted.
- I will never forget his facial expressions when he was caught doing something he was not supposed to be doing.
- I will never forget the fall at Meadows when he cart wheeled himself past four or more gates.
- I will never forget how he ALWAYS wanted to play dodge ball.
- I will always remember how he loved to laugh and joke on the bus.
- I will always remember the trips to the State Championships – even the one where we took him over his brother and had to convince his mom why – he worked hard and earned it.
- I will never forget talking with him and his mom in the lodge at Ski bowl trying to figure out if he passed the Wood Shop class or not so he could race. He had one of his better races that day and was forever known by the coaches as
"Evan Wood-shop".
- I will never forget his dedication to help those around him become better at skiing.
- It seems like yesterday that I was at his house for his graduation party.
There are many people who I have had or will have the opportunity to meet in my life. Today we mourn the loss of a friend, teammate and most of all someone who has touched all of us in a special way. Through our memories, we will keep Evan's spirit fresh in our mind and remind us of how he was able to touch us all. In many ways, Evan helped me to become a better coach and a better person!
From Helen Campbell:
It's not a ski team memory---hope that's okay
A group of us decided to change up the normal hang out routine and go play kick ball at our old elementary playground. It was Evan who made the experience feel like childhood again, who brought back the nostalgic feeling we were all looking for. Every point was important, every kick had the fate of the world riding on it. He put his heart into that game, he got us all into it, all running hard and playing hard. Evan always brought the life into any situation. And the hugs, I remember those. Maybe I would be out of town for 6 months and I would get together with people again and Evan always had a big hug and a sincere "how's it goin'?" The sincerity behind everything he did always struck me. Very few people wear their heart on their sleeve like that. Watching the way he skied was like watching the way he lived his life. Exuberance. Energy. Pushing the limits. Heart, body, and soul into it all. Evan Wood.
From Andrew Siebert:
I just have to remember that we were lucky enough to have someone like him in our lives. All the ski team memories live on, and I am glad that we had such a tight, close team to share all these great times. Every time Jason, Evan and I went skiing we would pass the run-away gravel truck ramp while coming down the mountain. We knew that up that gravel road was our perfect heaven. Perfect powder, huge lodges with the largest hot tubs, the hottest women in bikini's, awesome kicker jumps, the best italian wine and food (possibly Paola's), I just know he is happy.
-Andrew